VISITING ENSEMBLES/ARTISTS
The composition area regularly hosts professional ensembles for residencies at UGA. These residencies allow students to work side-by-side with professional ensembles through reading sessions, workshops, masterclasses, performances, recording sessions and round-table discussions on professional development.
The visiting ensemble/artist for 2022-2023 are the Transient Canvas, Clare Longendyke (piano) and Will Lang (trombone).
Recent visiting ensembles include:
Unheard-Of//Ensemble (Spring 2022)
SpacePants (Spring 2022)
Atlanta Symphony Orchestra, conducted by Music Director Robert Spano (Spring 2022)
Eunmi Ko (Spring 2022)
Ensemble Vim (Spring 2021)
Hinge Ensemble (Spring 2020)
Noa Even (saxophone) (Fall 2019)
Bent Frequency (Spring 2019)
Atlanta Symphony Orchestra, conducted by Music Director Robert Spano (Fall 2018)
Departure Duo (Spring 2018)
Hocket Ensemble (Spring 2017)
Transient Canvas (Spring 2016)
CCE 
CCE, formally known as Rote Hund Muzik, is changing its name and entire outlook on life and music-making! CCE is a place for upperclassmen and graduate composers, performers and conductors to break down silos of genres, challenge conventions of traditional chamber music, experiment with music-making, performing, the performance experience.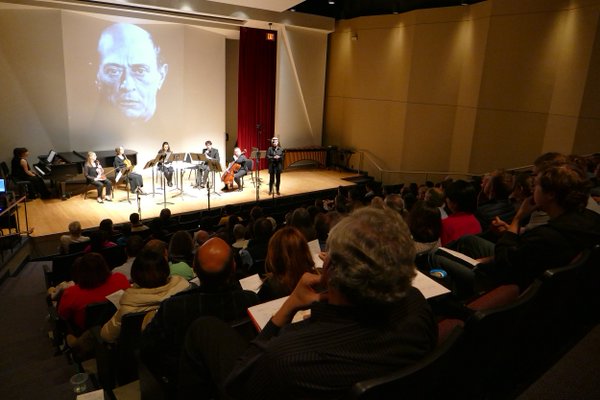 D@wgByt3s
D@wgByt3s is a UGA-based electronic music ensemble. Performing primarily compositions by UGA student and faculty composers, DawgBytes explores the cutting-edge of technology in music and multimedia performance. Drawing on students who have taken the 2-semester course sequence in Electronic Music Composition (as well as students from outside the composition area with some electronic music experience and who are interested in digital music-making), the ensemble works in a variety of environments (Max/MSP, Ableton Live, ROLI Equator, etc.) to explore the art of music composition in the digital world.
DANCZ STUDIOS-IN-RESIDENCE:
Each year, one or more performance studios are designated to work alongside the composition area in semester-long or year-long residencies. These studios collaborate with UGA composers in the creation, performance, and recording of student works, through events such as listening parties, student and faculty-led seminars, workshops and concerts.
The 2022/2023 Dancz studio-in-residence is Dr. Amy Petrongelli's voice studio and Dr. David Starkweather's cello studio.
Previous studios-in-residences:
2021/2022: Dr. Michael Heald's violin studio and Dr. Amy Pollard's bassoon studio
2020/2021: Dr. Jame Naigus' horn studio
2020 Spring: Dr. Elizabeth Knight's voice studio and Dr. Daniel Bolshoy's guitar studio (joint residency)
2019 Fall: Professor Angela Jones-Reus' flute studio
2018/2019: Professor Maggie Snyder's viola studio and Dr. Joshua Bynum's trombone studio
2017/2018: Dr. Connie Frigo's saxophone studio 
LARGE ENSEMBLE COMPOSER-IN-RESIDENCE:
The three top ensembles at UGA—the UGA Symphony Orchestra, Hodgson Singers and Hodgson Wind Ensemble—host a competition among student composers on a triennial rotation. The selected composer works with the closely with the ensemble throughout the school year, and composes a new work that will be premiered by the host ensemble in the Spring semester each academic year.
2022-2023: Hodgson Singers | composer-in-residence: Claudia Beroukhim (BM'24)
2021-2022: UGA Symphony Orchestra | composer-in-residence: Dan Karcher (DMA'23)
2020-2021: Hodgson Wind Ensemble | composer-in-residence: Ayako Pederson-Takeda (BM'22)
2019-2020: Hodgson Singers | composer-in-residence: Benjamin Dawson (DMA'21)
2018-2019: UGA Symphony Orchestra | composer-in-residence: Sydney Doemel (BM'20)
STUDENT COMPOSERS ASSOCIATION (SCA) RECITALS:
The Student Composers Association hosts one or two recitals every semester in which works composed by UGA student composers are presented.
LOOP10 CONCERTS:
The Loop10 series challenges student composers with themed interdisciplinary projects, often bringing them into collaborations with creatives in non-musical fields. Recent Loop10 events have involved the ATHICA contemporary art gallery, State Botanical Gardens of Georgia and the UGA Integrative Conservation Conference.